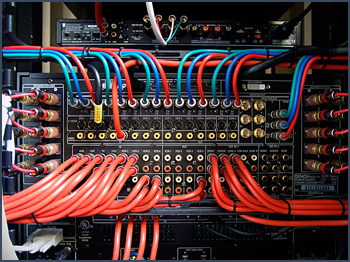 It's September and you are thinking of having that Christmas party you have been putting off since you moved into your new home two years ago.
Your furniture is in, your kitchen is fully equipped, and now you need the sound.
Whoops…forgot to wire for it.
What you really want is a full multi room audio system and lighting control.
While there are ways to recreate such systems, you can't always get what you want without some remodel costs.
Artistic Systems can "future proof" your home by providing a complete wiring design for a variety of home systems.
Not only will your house be ready for the next technology, you have just increased your resale value by fully wiring the house.
How does electrical wiring affect residential electronics? In every way!
All homes are wired for the basic services such as electricity, telephone, and limited cable TV.
This framework is not adequate to take advantage of the latest digital technologies.
We prepare your home for current and future technology.
We create a powerful low-voltage wiring network that links your components together allowing for the easiest and most powerful control and access.
You can then grow your system as new services become available.
The ability to route multiple phone lines for voice or data, create computer networks and send high definition audio and video signals to any place in your home are just some of the advantages.